Empowering NYC Produce Street Vendors
Designing solutions to help Produce Street Vendors in NYC strive in their business

Scope: 6 weeks
Categories: Service Design, UX Research & Strategy, Prototyping, Usability Testing
Client: Cenjiz and Palash - owner and seller of the vendor located at the corner of 22nd St & 6th Ave in Manhattan
Advisor: Marshall Sitten (SVP, Director of Communications & Service Design, Citi Community Development)
Team: Yumeng Ji, Xiaoxi Yuan, Mia Darling Ibáñez Risso
Role: team and progress management, desk research, interviews, prototyping, prototype testing, key stakeholder map, service blueprint, risk matrix, user feedback video, pitch deck
THE CHALLENGE
To improve the underrated and under-supported small service business in New York City - the produce street vendors.
THE OUTCOME
Provide the vendors the tools, effective design solutions, and competitive edge to innovate in their market space and to thrive with their own superpowers.
NYC PRODUCE STREET VENDORS
There are more than 20,000 street vendors in New York. Most of them are immigrants, 95% of the vendors speak 11 languages other than English. This is a highly diverse community that brings so much life and energy into the city.
Within that population, there are about 10,000 to 12,000 produce vendors. They work very long hours and in harsh conditions.
According to Rules and Regulations for Mobile Food Vending NYC, produce street vendors are classified as class E, a green cart or other non-processing mobile food vending unit in or on which only non-potentially hazardous uncut fruits and vegetables are sold or held for sale or service.
DISCOVER THE COMMON BARRIERS
DISCOVER THE SERVICE & ITS PROVIDER
DISCOVER RISKS
The vendors' salient attributes are convenient, cheap, quick, and sold via the exchange of personal relationships. However, the service has faced many challenges. We placed all the pain points discovered from the research onto the Risk Matrix and decided to tackle the ones at the top right corner as those imposed the highest risks to the business. They were categorized into three main problems.
PROBLEMS
1. Unclear perception of value
2. Interrupted sales flow
3. Fines
We crafted three design solutions in response to these problems, with the expectation that those would eventually help to significantly increase the vendors' profit.
DESIGN SOLUTIONS
1. Increase customer's WTP
2. Improve Sale Logistics
3. Cooperate with City Regulations
MEET PALASH
Palash is an immigrant from Bangladesh and has been working as a vendor for 9 years. He operates his food produce stand located on the corner of 22nd Street and 6th Avenue in Manhattan from 7:00am to 7:00pm every day. His boss (Cenjiz) also frequently visits the grocery stand to oversee the productivity of the service.
Cenjiz and Palash were kind enough to share their insights about the business and let us test the prototypes of our solutions on their stand.
Our prototypes were iterated based on feedback from vendors, customers and walking-by pedestrians.
SOLUTION 1 - Increase customer's WTP
by SURFACING HIDDEN VALUES TO CUSTOMERS
WHAT ARE THE HIDDEN VALUES?
There is a plethora of valuable information that is not communicated clearly for the customers.
Origin of produce - The produce originates from Hunts Point Terminal Produce Co-operative Market in the Bronx, which is the same source for all major grocery stores, that is, Whole Foods, Trader Joe's, and Fairway Market. Another point is that all produce is locally sourced in the USA in the summer.
Health inspection criteria - The produce is inspected once or twice a month by the New York City Department of Health and Mental Hygiene, with regular check-ups. Three main points to emphasize are the freshness of the produce, accuracy of scale, and pushcart cleanliness
Quality and cost-effective prices of the produce - If we compare the price between Trader Joe's and the street vendors, it is apparent that the street vendors sell their produce at a much cheaper price point and for the exact same, if not better quality. There is also value in educating customers about daily price changes due to the weather, market demand, and holidays.
Freshness of produce - It is restocked daily from Monday to Friday. In contrast, the big grocery stores keep their produce in the warehouses before shipping them to the stores, which sometimes takes months.
HOW CAN WE COMMUNICATE THE VALUES TO CUSTOMERS? - by INFORMATION SIGNAGE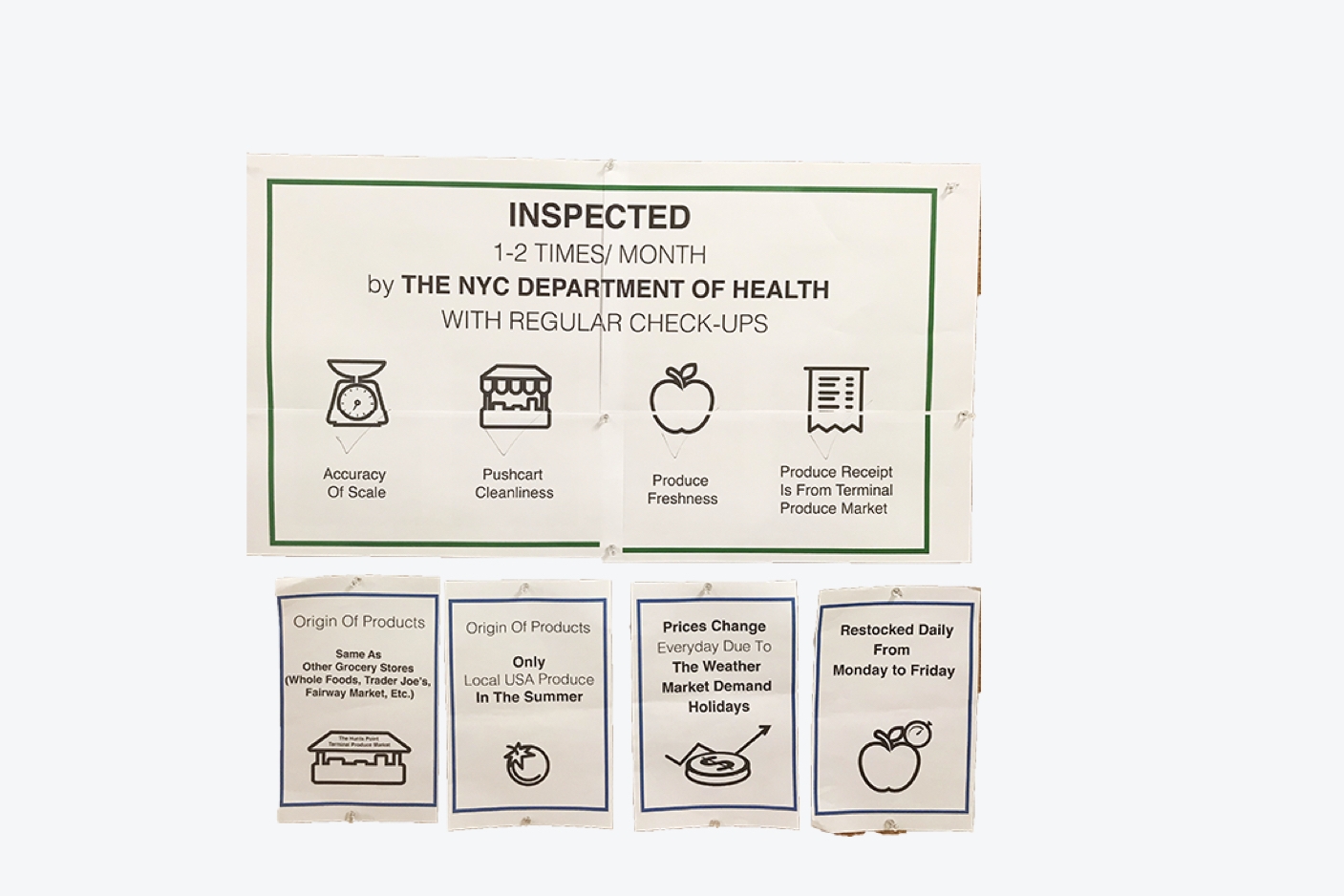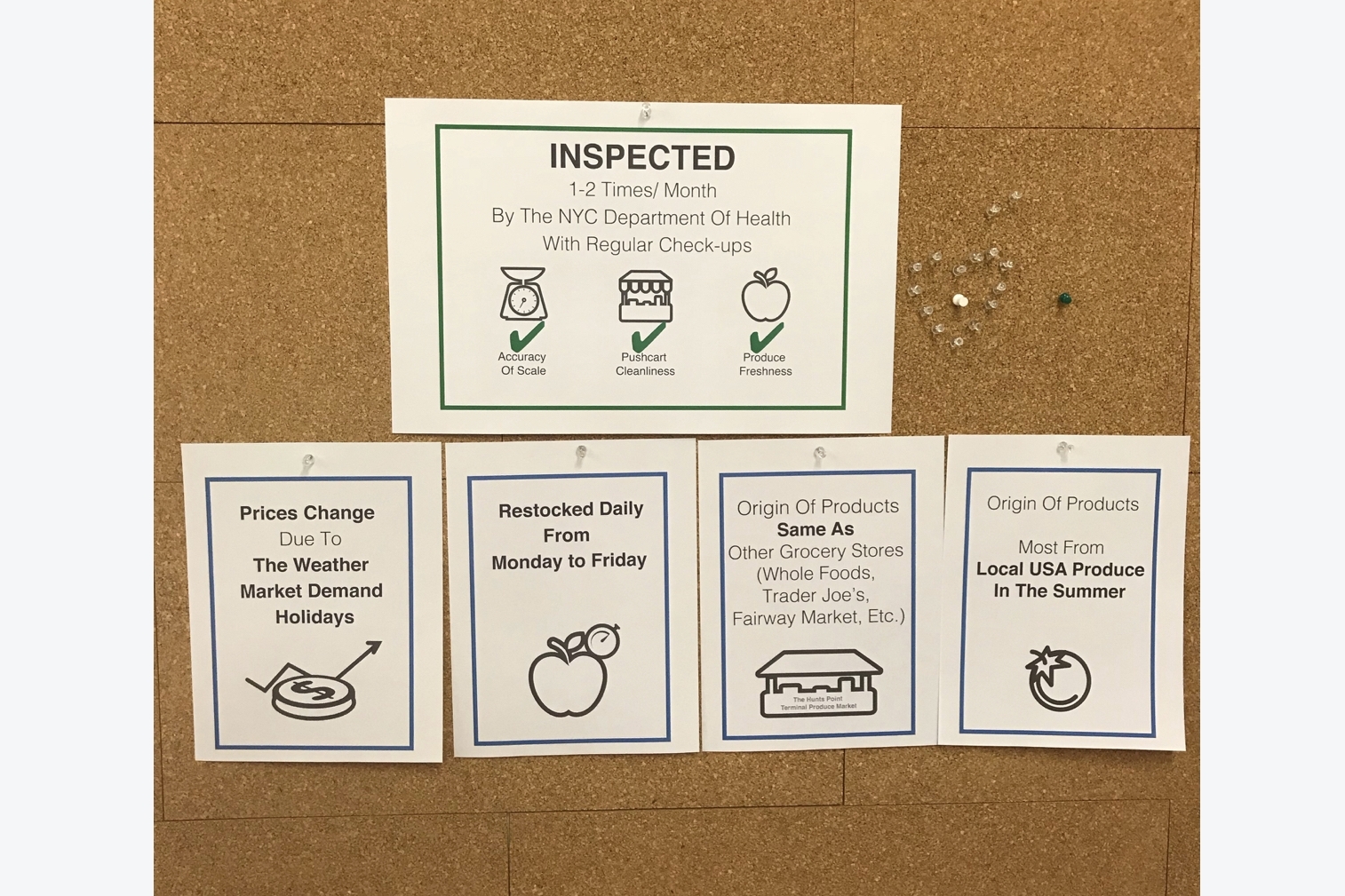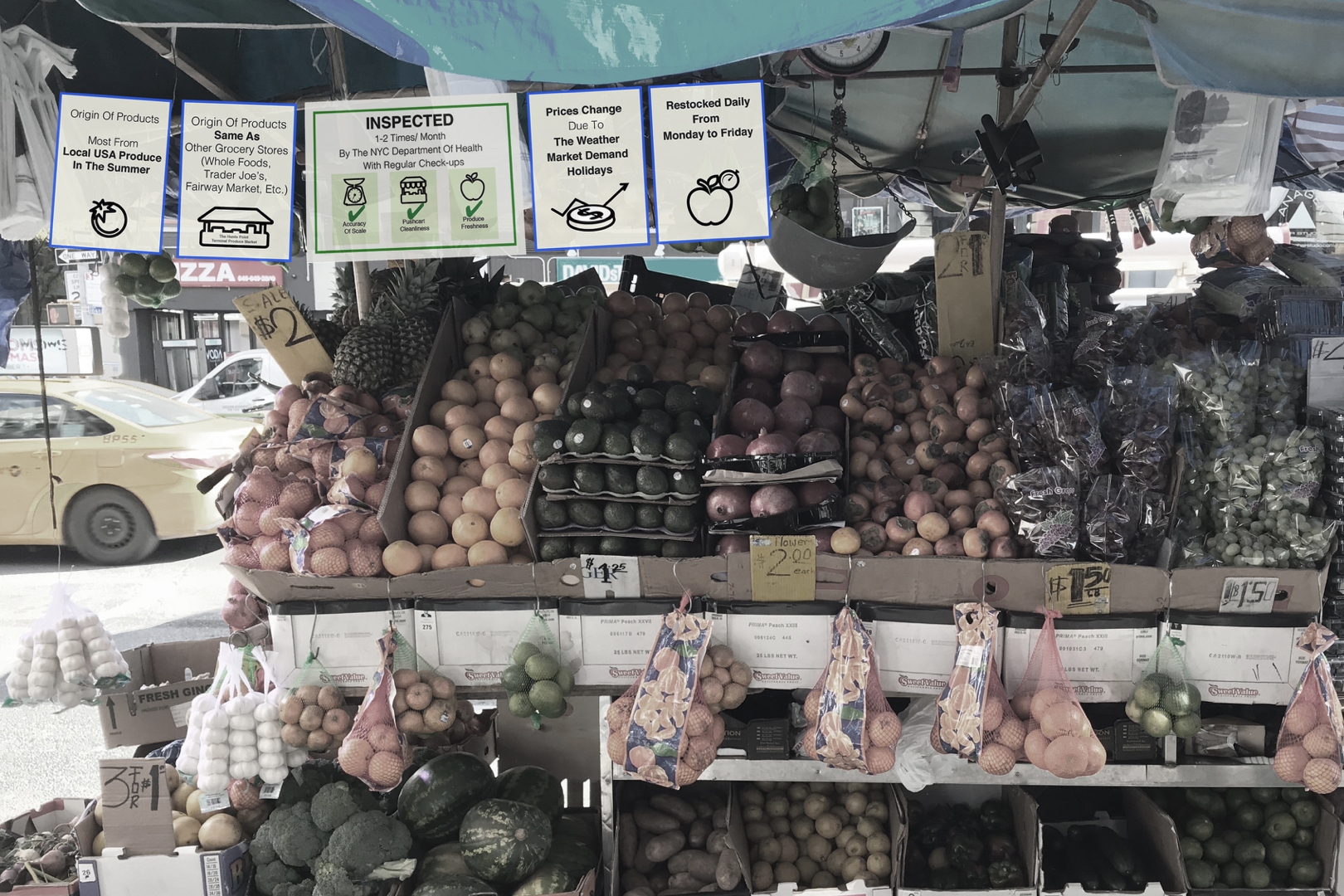 Design considerations:
1. Content
2. Presentation
3. Cost
4. Durability
5. Location
SOLUTION 2 - Improve sales logistics
by IMPROVING STAND PRESENTATION & SALES MANAGEMENT
WHAT SLOWS DOWN THE SALES?
Only one seller per time - An occasional lack of attentive service since there is only one vendor at the grocery stand who has to strike an ongoing balance between restocking fresh produce from the air conditioned truck and attending customers during their shopping experience.
Price indicators - There is a level of frustration that does occur among customers as prices are not clearly displayed throughout the grocery stand. Furthermore, vendor does not have an efficient system of storing, reusing, updating and displaying their price tags.
Stand presentation - Many essential items for sale are physically out of reach. The apples, for example, are positioned in the back of the stand and the entire inventory design is not logically arranged for customers to instantly comprehend where their items of need are located. There isn't a sign on the grocery stand that communicates that the produce is indeed organic.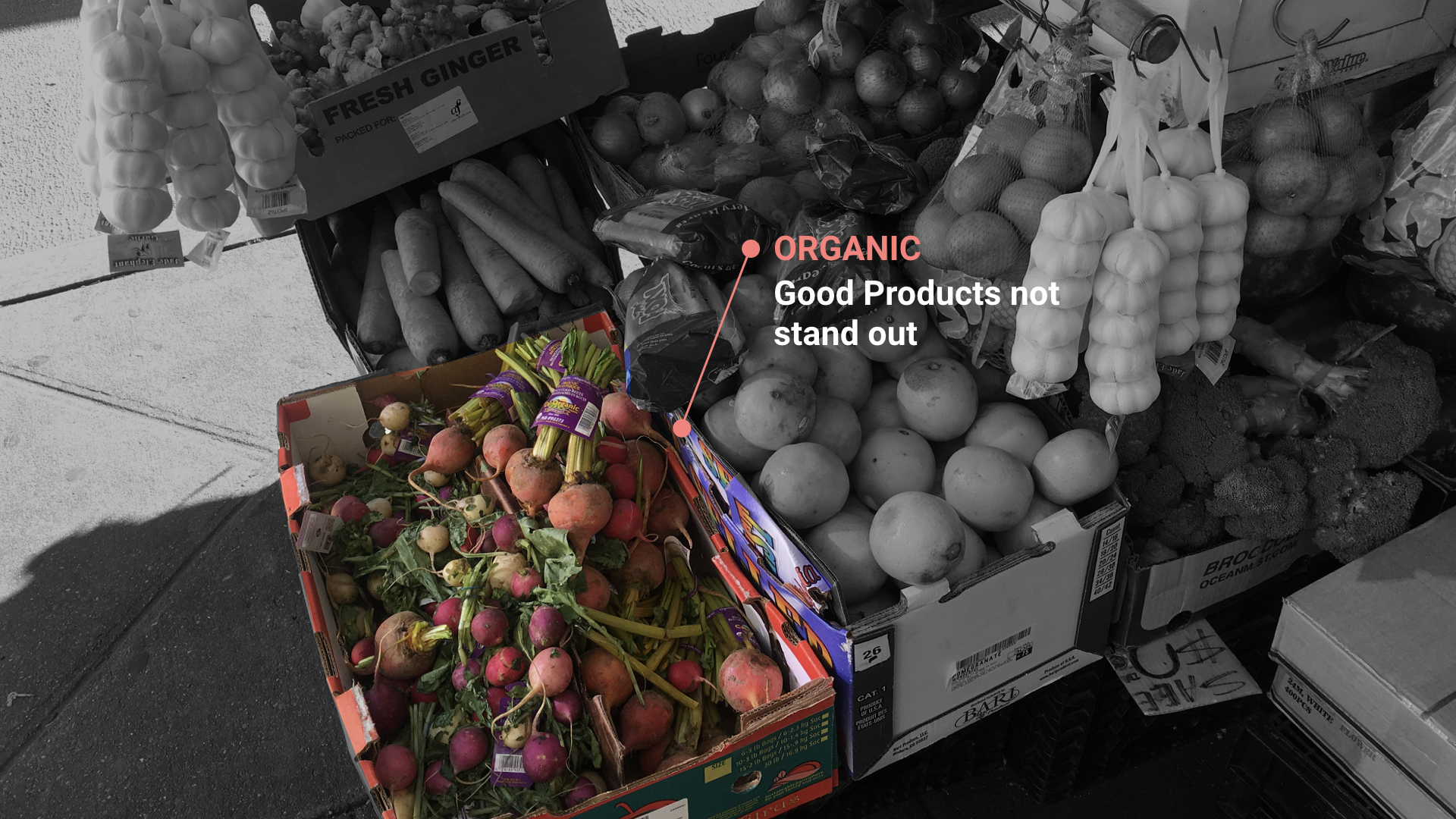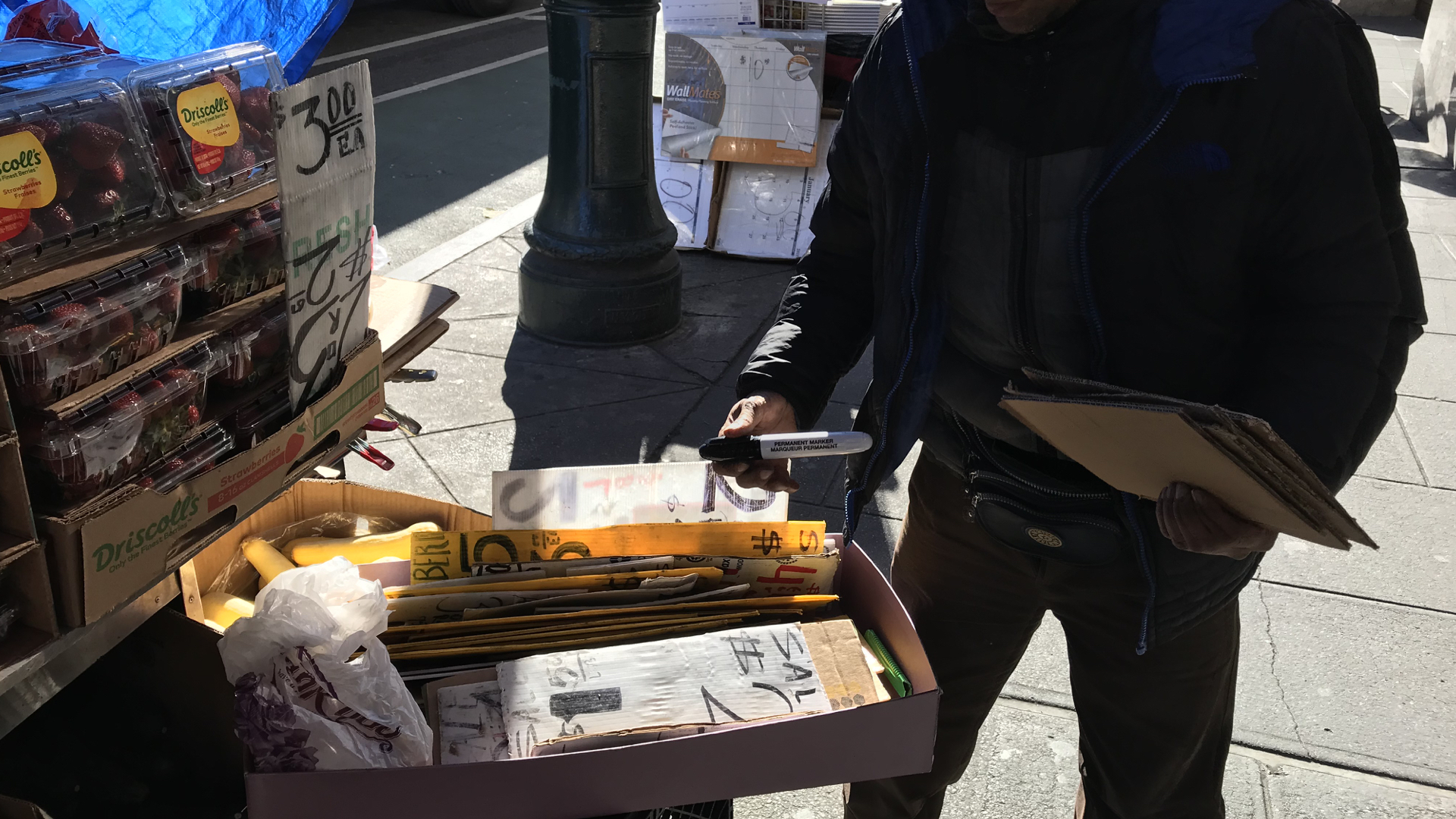 HOW CAN WE IMPROVE LOGISTICS & SIMPLIFY THE WORK? - by PRICE TAG REDESIGN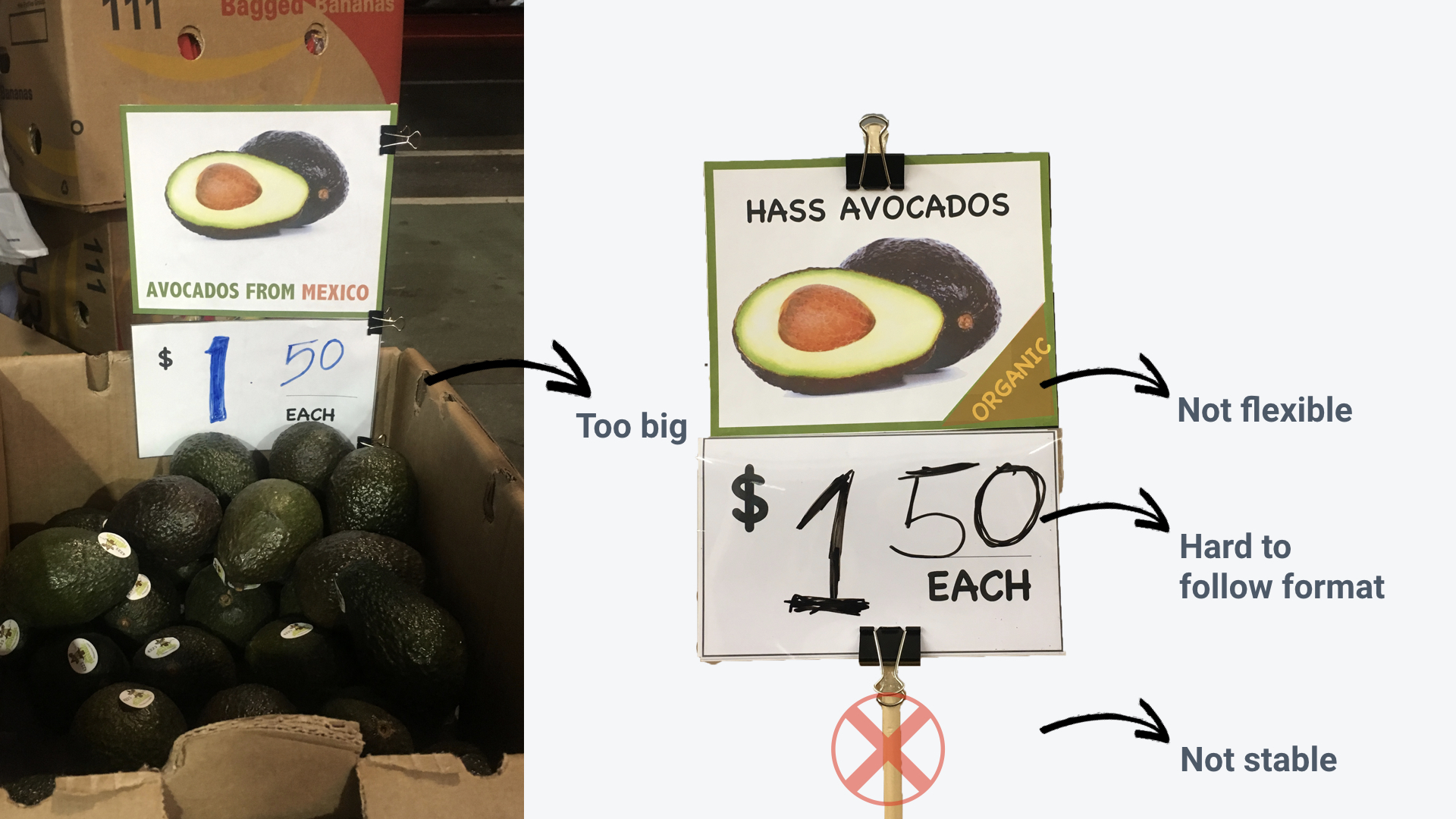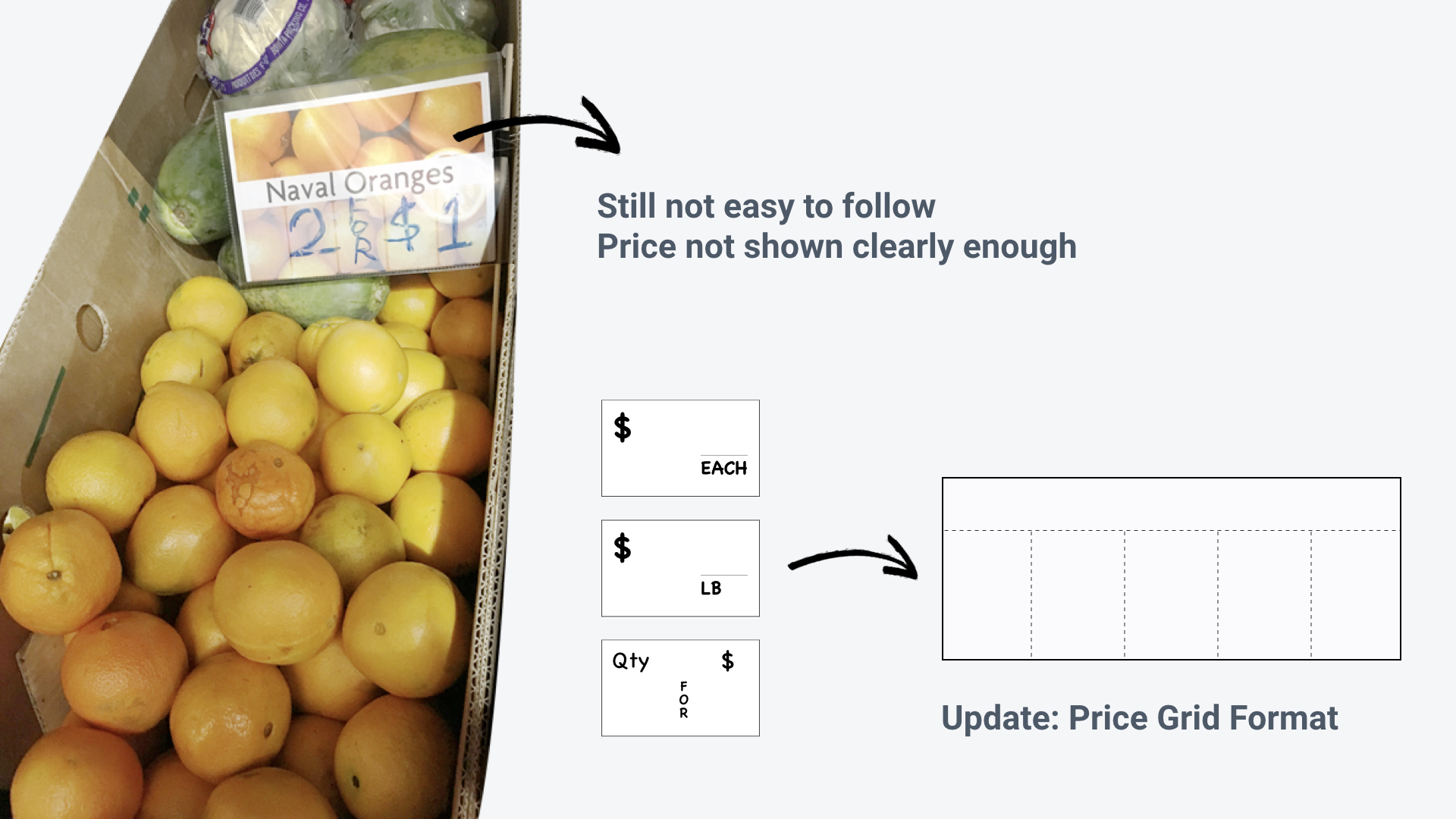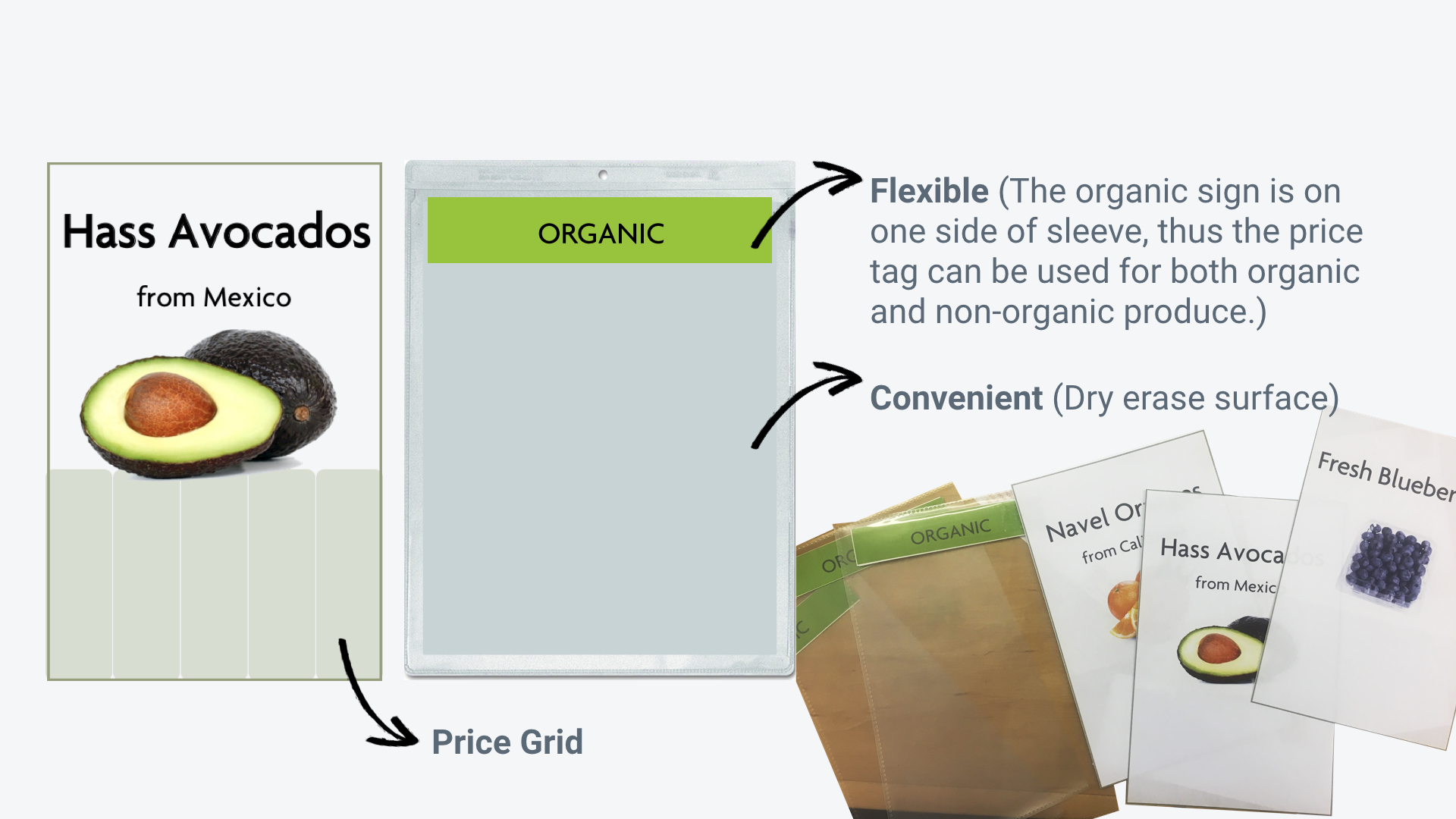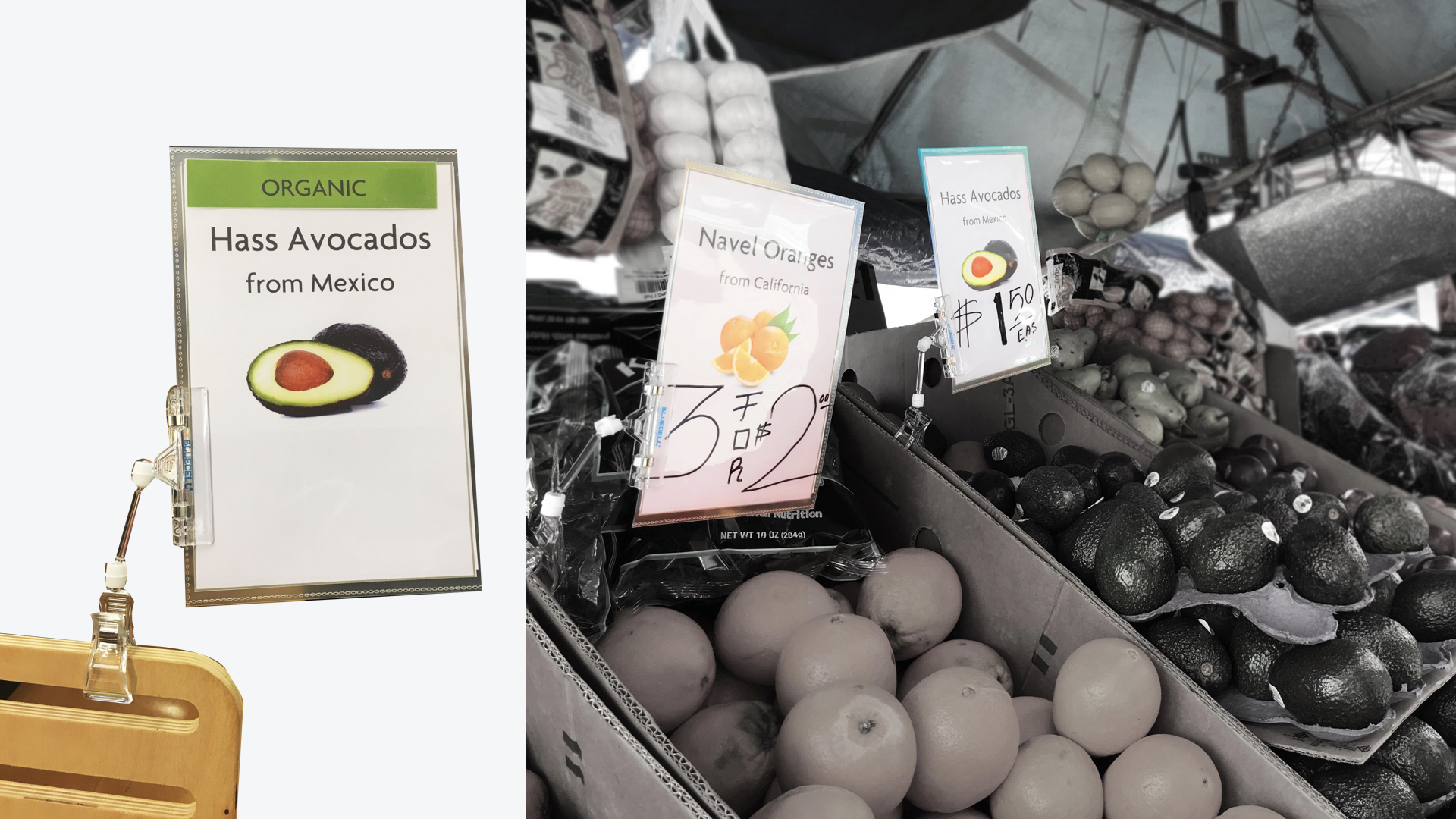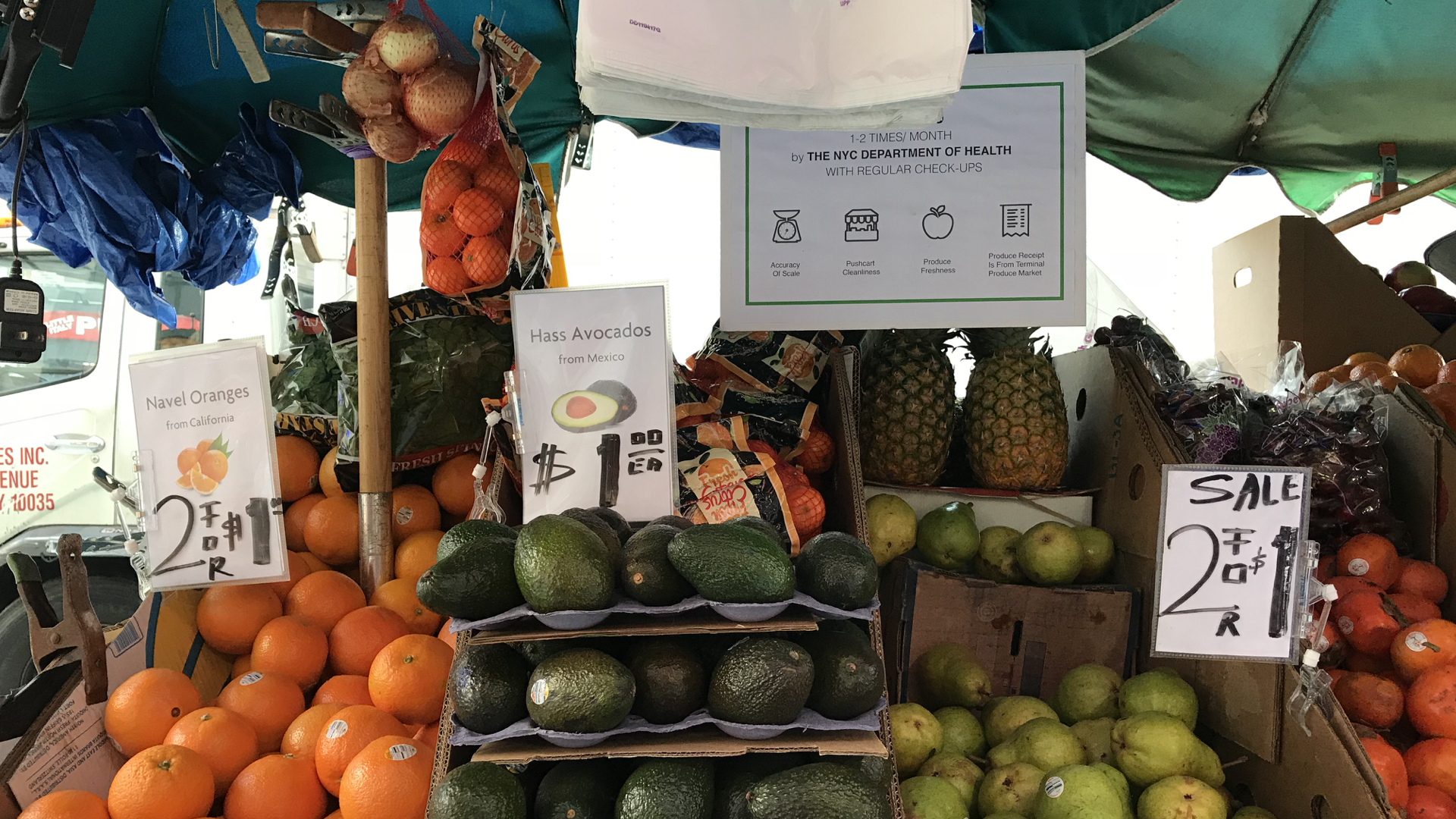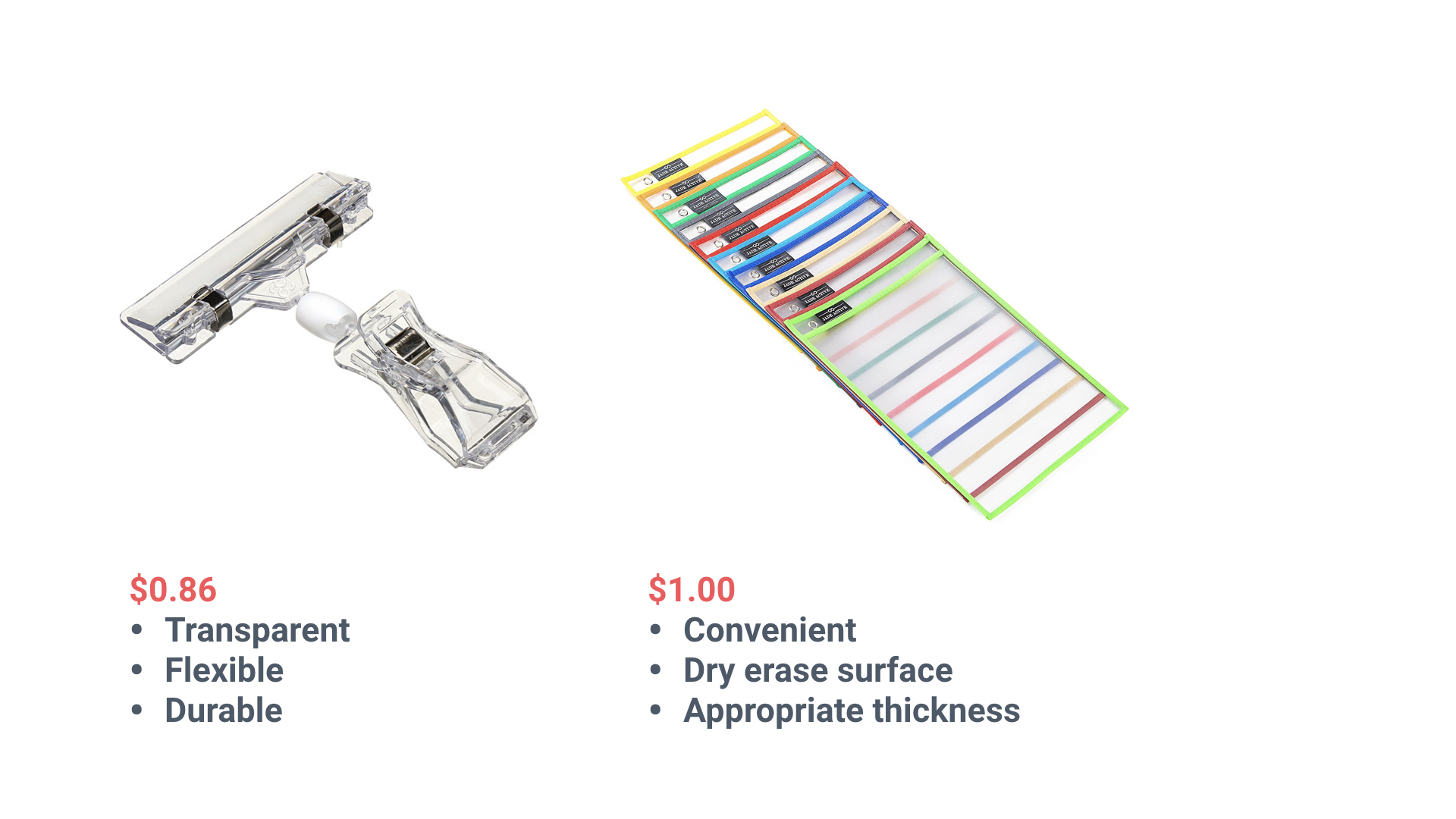 Design considerations:
1. Picture & Information of Popular Items
2. Organic Sign
3. Price Format
4. Cost
5. Easy of Use
FEEDBACK & REACTIONS TO OUR PROTOTYPES
SOLUTION 3 - Cooperate with City Regulations
by EQUIPPING VENDORS WITH REGULATIONS KNOWLEDGE
WHAT ARE THE CURRENT PROBLEMS VENDORS HAVE WITH THE CITY REGULATIONS?
Language barriers - Communication is very important to collaborate with polices and health inspectors. However, vendors do not know how to stand their ground and defend themselves because of language barriers as most of them are immigrants and English is their second language.
Too busy to remember - Even though the sellers know all the regulations, they are too busy to take care of the business. Regulations are oftentimes simply forgotten.
Existing good materials - Vendor Power, a poster uses simple graphics and minimal text — in the five languages most commonly spoken among NYC's vendors — to explain some of the most-often violated laws. But how to turn those valuable information into actions?
HOW CAN WE MOTIVATE VENDORS TO OBTAIN & FOLLOW THE REGULATIONS? - by VENDOR'S TOOLKIT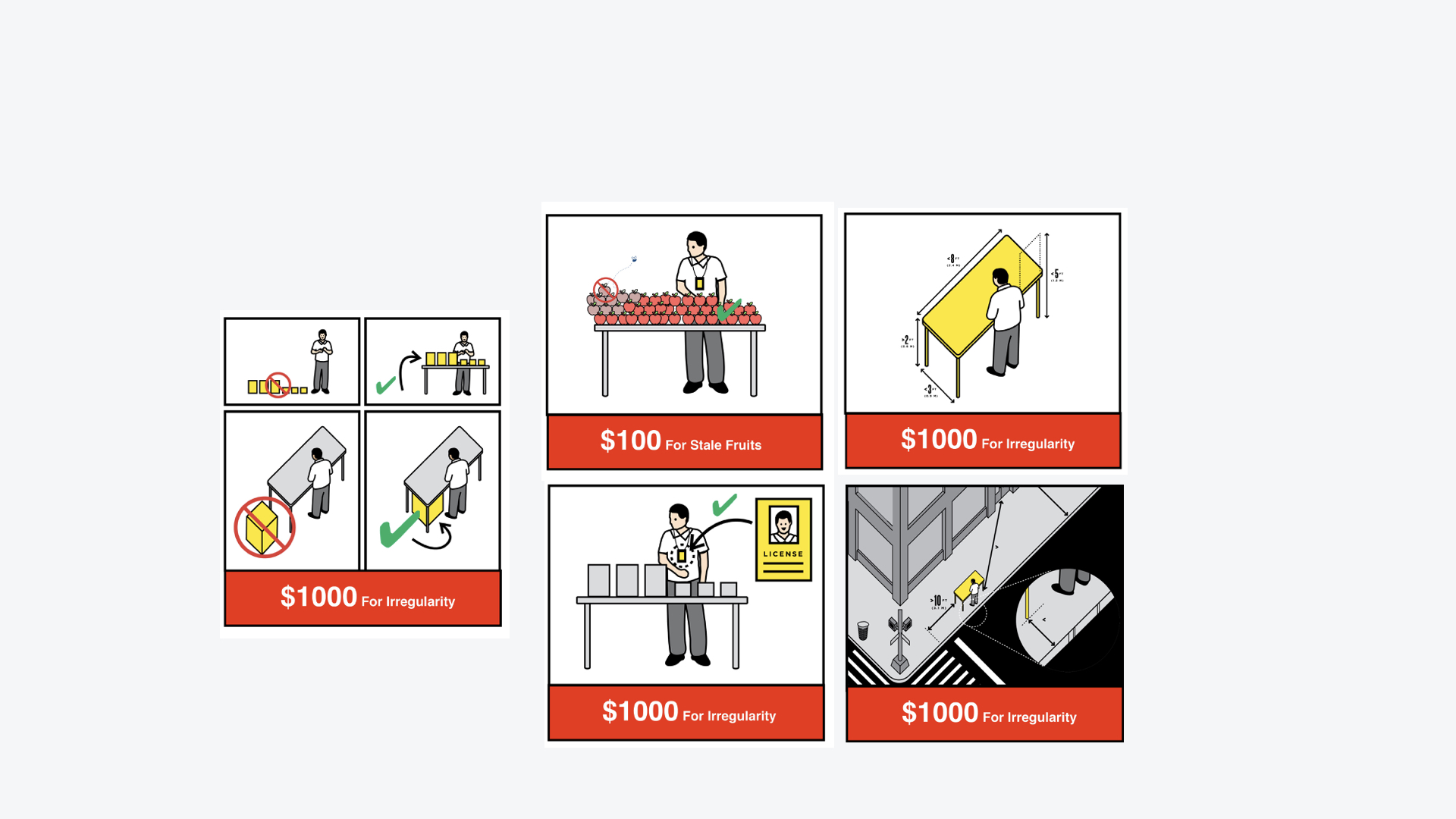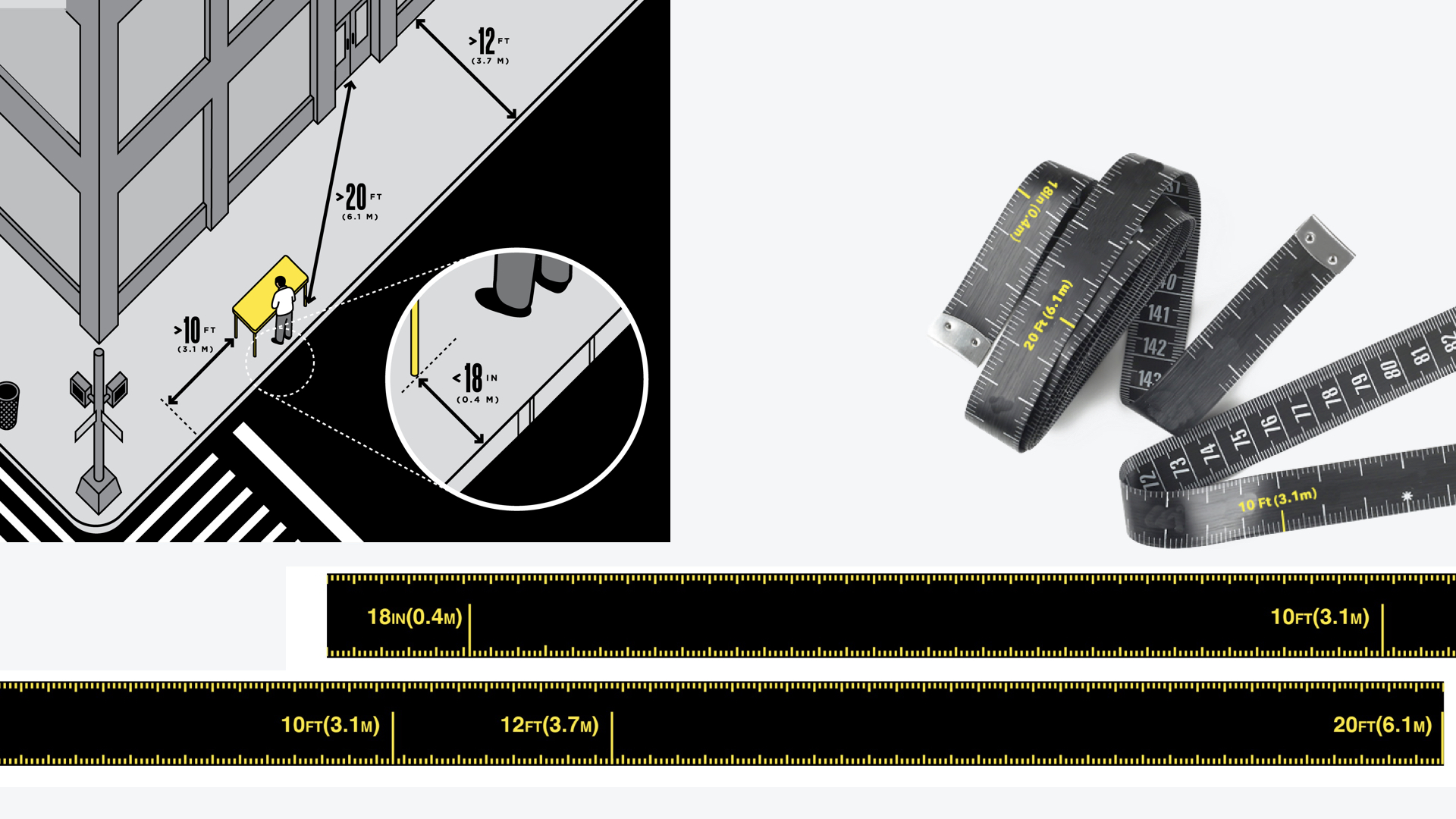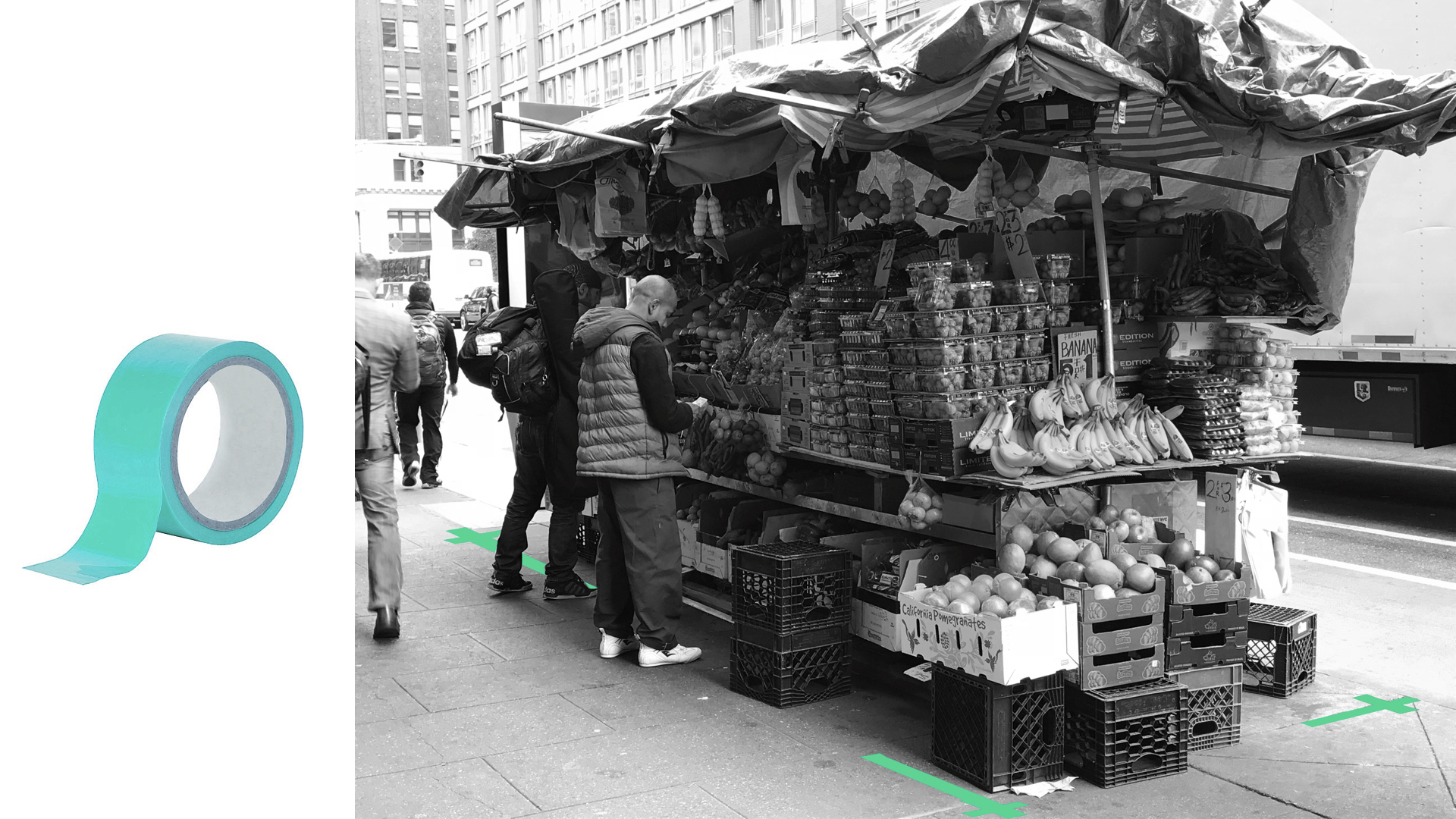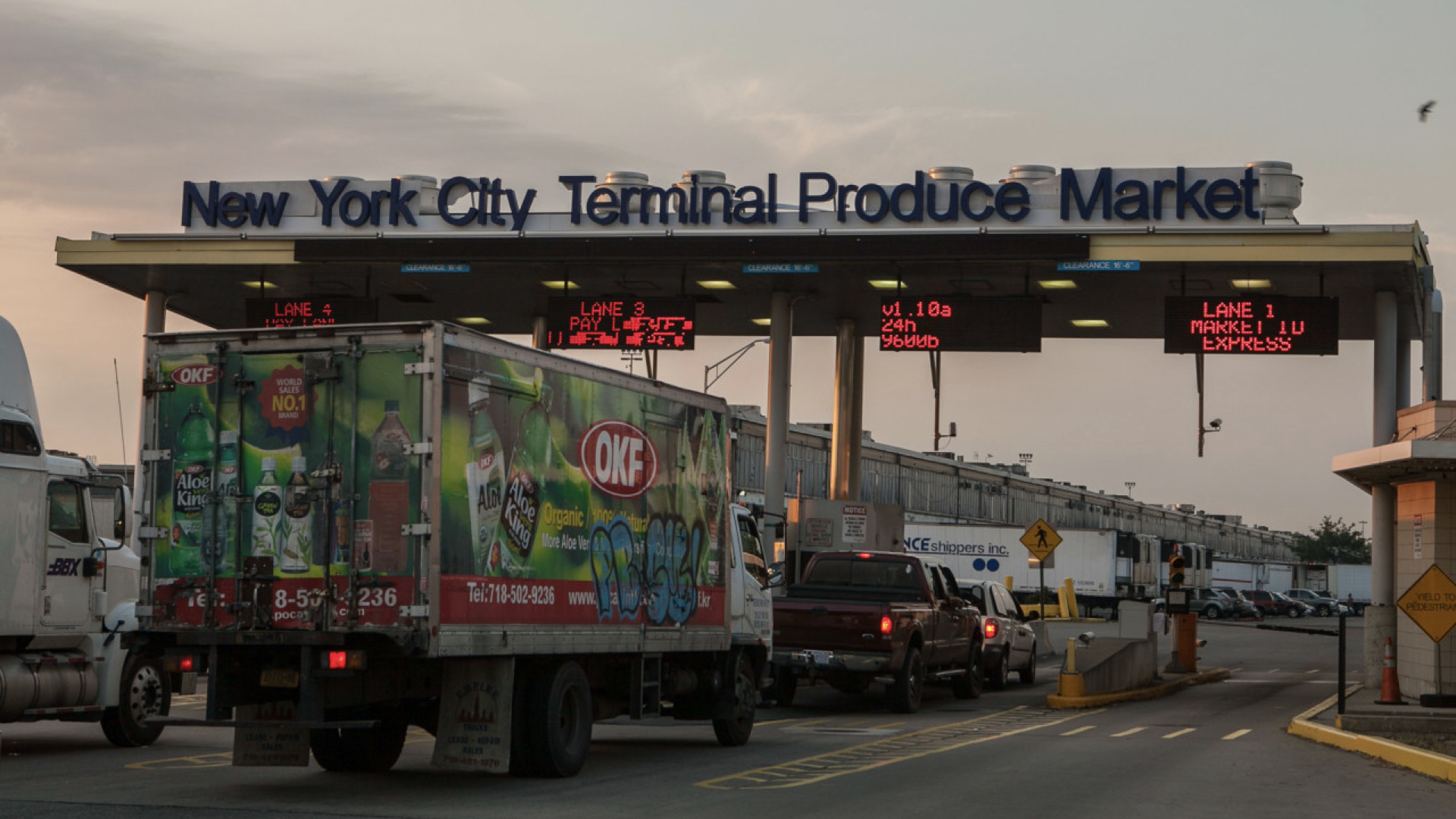 Design considerations:
1. Help with Language Barriers
2. Risk Calculation
3. Leverage Existing Materials
4. Distribution Channel
ADDITIONAL SOLUTION - A SURPRISING FINDING
One rainy morning, we stopped by to have a quick chat with Palash. He pointed to us , right next to his stand, the LinkNYC, a first-of-its-kind communication network that brings the fastest free public Wi-Fi to millions of New Yorkers and visitors. As an international infrastructure project, LinkNYC can enable the use of credit cards in purchasing produce from the street vendors, which makes it one their key salient attributes.
TO SUM UP
With our design solutions, we hope to help the NYC produce street vendors raise customer awareness about health inspections and produce quality, improve sales logistics, implement reminders about the regulations, empower them to stand their
ground as they communicate with inspectors and police officers, and integrate ways to use WIFI from LinkNYC. Ultimately, they will experience an increase in profit and revenue.
WHAT'S NEXT?
We will continue to refine the prototypes, seek for partnership with The Street Vendor Project, as well as the New York city. If you are interested in either supporting or contributing to this project, don't hesitate to message us :)
At the end of the day, we hope to see the vendors feeling welcomed, emotionally & financially secured, supported and empowered. Next time you plan to go buy fruits or veggies, check out your nearby vendors.
BEHIND THE SCENES
Yumeng and I went to the Union Square farmers market to explore ideas of how to display the produce items. We got quite excited there…